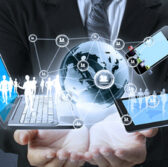 Oracle has joined a public-private research project introduced by the White House's Office of Science and Technology Policy that seeks to examine the advantages and challenges of wireless networking.
The company said Monday it will provide engineering and technology expertise as well as core network control, analytics and network orchestration tools to the Platforms Enabling Advanced Wireless Program.
PAWR, led by the National Science Foundation, comprises the nonprofit group US Ignite  and leaders from several academic and private organizations.
"We see an opportunity to bring the power and flexibility of the cloud to telecommunications," said Doug Suriano, senior vice president and general manager of Oracle's communications business.
"As a means to better understand the impact of subscriber behaviors to traffic engineering, how analytics can enhance orchestration at the network and service levels, and how to bolster security of the control plane to protect against malicious behavior," Suriano added.
Oracle aims to help researchers determine how applied analytics can help address orchestration and network performance issues, analyze the capacity in a virtual network and identify new metrics and formulas to engineer and secure cloud-based telecommunication networks through the PAWR initiative.