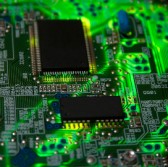 The Defense Advanced Research Projects Agency has awarded Northrop Grumman a potential $7.2 million contract modification to begin work on the second phase of the Supply Chain Hardware Integrity for Electronics Defense program.
The modification exercises the initial option to a previously awarded contract with a 21-month base term and brings the total contract value from $12.3 million to $19.6 million, the Defense Department said Friday.
The SHIELD program seeks to authenticate and prevent the entry of fake integrated circuits into the defense supply chain through the development of a microscopic-scale "dielet" or chip that works a "hardware root of trust."
SHIELD's phase 2 calls for contractors to design and produce the dielet that is equipped with sensors and encryption engine.
DoD said Northrop will perform work in Maryland, New Mexico, California, Virginia, Texas and Georgia through Jan. 11, 2018.
DARPA will obligate $3.6 million from research, development, test and evaluation funds for fiscal 2016 at the time of award.
Northrop presented its miniaturized chip and its partner RFID Global Solution the Visi-Trac software application at the DARPA-hosted Demo Day in May as part of a contract that Northrop received from DARPA in 2015.