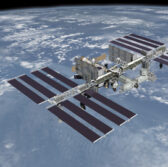 NASA has begun to explore ideas for the use of a docking port on the International Space Station with a goal to pave the way for independent space stations, Space News reported Friday.
Jeff Foust writes the space agency launched a request for information in early July for limited availability ISS resources that NASA hopes could help to support economic development in low Earth orbit.
The report said NASA seeks to use an aft docking port on the Node 3 module, where the Bigelow Expandable Activity Module currently occupies the port, and make the port available to other modules by 2018 when the Bigelow module completes the tests.
Bill Gerstenmaier, NASA associate administrator for human exploration and operations, said at a hearing with the  Senate Commerce Committee's space subcommittee that the agency currently examines how companies could gain access to the port, according to the publication.
"We essentially have one of the ports on the space station that we're going to make available to the private sector to go utilize how they want," he told subcommittee members.
The report added Bigelow Aerospace and Stinger Ghaffarian Technologies are among the companies that recently expressed interest in a project to install a private module on the ISS.