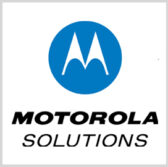 Motorola Solutions deployed its communication systems in an effort to facilitate communication among public agency officials during the inaugural events held at the Panama Canal's Pacific and Atlantic locks to mark the waterway's expansion.
At least 11,500 public officers from 20 agencies used Motorola's ASTRO 25 and TETRA radio platforms to transmit voice and data communications, the company said Friday.
"These inaugural events marking the canal expansion required the latest coordinated mission-critical communications," said Mike Devente, vice president and general manager for Motorola Solutions in Latin America.
The company also fielded MOTOBRIDGE, an internet protocol-based system that complies with the Project 25 standard and works to facilitate interoperability of different communication tools.
The Panama Canal Authority oversees the 80-kilometer-long waterway through the management of dredging operations, ships' exit and entry, hydrographic basic control and operation of canal locks.
The company said the Panama Canal has more than 4,000 employees as well as a fleet of 80 personal transportation crafts, 30 floating towing devices and 4 dredgers.