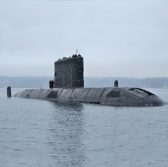 Lockheed Martin has received a $14.5 million contract to perform support work on the fire control system of four Victoria-class submarines and ground-based team trainers for the Canadian navy.
The company said Tuesday it will provide in-service and field service, obsolescence management and technical investigations support under the contract.
Lockheed will also help the Canadian navy to integrate layer-based displays, sonar processing upgrades, search-and-attack periscopes, precision electronic navigation and electronic support measure systems into the Victoria-class submarine fleet.
Work will occur at company facilities in Manassas, Virginia and in Dartmouth, Nova Scotia as well as at military bases in Halifax and Esquimalt, Canada.
Fire control systems are designed to facilitate submarine weapon firing operations and provide operators a tactical picture compilation of acoustic and non-acoustic sensors.
Lockheed updated the control system of Victoria-class submarines in 2015 as well as supported test firing of a Mk48 Mod 7AT torpedo with the watercraft's consoles and weapon control units, the company noted.