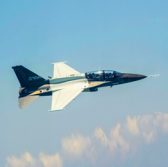 A team comprised of Lockheed Martin and Korea Aerospace Industries has tested a second T-50A aircraft in pursuit of the U.S. Air Force's T-X trainer replacement contract.
"We now have two aircraft in flight test proving our upgrade and we're nearing completion of our assembly and training operations center in Greenville, South Carolina," Doug Batista, Lockheed's T-50A program manager, said in a statement released Tuesday.
The Lockheed-KAI team tested the first T-50A trainer in June.
The aircraft will be the companies' joint offering for the Air Force's Advanced Pilot Training competition and is designed to comply with system requirements that the military service released in March last year.
The team also plans to offer an accompanying ground-based training system to the service branch, Lockheed noted.
T-50A is an updated version of KAI's T-50 platform that has recorded more than 100,000 flight hours and has been used to train more than 1,000 pilots.