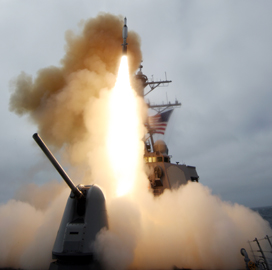 Lockheed Martin has conducted a new flight test of the Long Range Anti-Ship Missile's surface-launch variant with the MK 41 vertical launch system aboard the U.S. Navy's Self Defense Test Ship.
The company said Thursday the surface-launched LRASM worked to load mission data through the modified Tactical Tomahawk Weapon Control System, align mission data with the moving ship and launch from MK 41 VLS during the demonstration.
Lockheed received a $321.8 million Navy contract in May to support the integration and test phase of the LRASM program.
The company will further test the missile on other surface ship applications such as topside and deck-mounted launchers.
Lockheed noted the integrated LRASM and VLS launcher will work to provide long-range, anti-surface warfare functions to Aegis destroyers and cruisers as part of the on the "distributed lethality" concept.
Lockheed builds the surface-launched LRASM on the same production line as the Joint Air-to-Surface Standoff Missiles, JASSM-ER and the LRASM air-launch variant.
LRASM anti-ship missiles support Navy and U.S. Air Force warfighters in anti-access and area-denial threat environments.