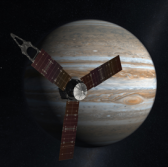 NASA's Jet Propulsion Laboratory and Lockheed Martin's mission support area have worked together to operate and place the company-built Juno spacecraft into a large elliptical polar orbit around Jupiter.
Lockheed said Monday the probe reached Jupiter Monday evening after a 1.76-billion-mile journey in the last five years.
A team of engineers from the company and the agency sent final commands to ready Juno for the orbit insertion four days prior to the execution of the mission to put the spacecraft in autopilot to initially orbit around the planet for 53 days.
"Tonight, 540 million miles away, Juno performed a precisely choreographed dance at blazing speeds with the largest, most intense planet in our solar system," said Guy Beutelschies, director of interplanetary missions at Lockheed's space systems business.
The company noted the mission looks to understand of the formation and evolution of Jupiter and the solar system over the next 20 months as well as investigate the planet's origins, interior structure, deep atmosphere and magnetosphere.
Juno was launched aboard a United Launch Alliance-built Atlas V 551 rocket in August 2011 as part of NASA's New Frontiers Program, Lockheed noted.