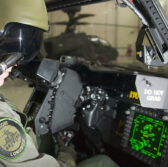 Leonardo-Finmeccanica has introduced a dual role model of the M-346 trainer, developed by the Italian conglomerate's subsidiary Alenia Aermacchi, and expects the new aircraft to enter service in 2018, Defense News reported Sunday.
Tom Kington writes the M-346FTÂ trainer is designed to shift between pilot training application and combat operations.
The aircraft incorporates a new tactical datalink and five hard points to fix homeland security, tactical reconnaissance or ground attack missions, Kington reports.
The report said M-346FT will also be equipped with the RecceLite pod. a radar warning receiver and chaff and flare dispenser jet trainer.
The new trainer is also configured to carry armaments such as the GBU-12 and -49 laser-guided bombs, GBU-38 JDAM, Lizard guided bomb, Small Diameter Bomb and a gun pod.
A team comprised of Raytheon, CAE, Honeywell and Leonardo-Finmeccanica proposed the T-100 training jet, a variant of the M-346 platform, to the U.S. Air Force's T-X replacement program.