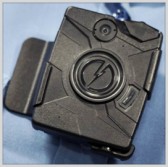 Hitron Technologies Inc. has been awarded a 16-month, $441,706 contract with the Department of Homeland Security's science and technology directorate to develop an automated activation system for body-worn cameras for first responders.
The company said Thursday it aims to incorporate sensors that use short-range radio signals into the system to automate the activation of a responder's body-worn camera depending on various circumstances.
The system will be designed to activate a wearable camera when an officer removes a weapon from its holster, during an exit from police vehicle, when elevated voice or sound levels are detected and upon identification of elevated physical stress.
Hitron will configure the system to activate upon dispatch or incident command via remote common smartphones.
DHS S&T's first responders group asked industry in fall 2015 to provide technology that would help address first responder requirements and the contract is the first in a series of planned awards over the next few months.