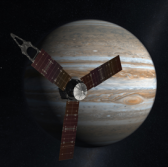 Harris has provided communications and monitoring connectivity to support the NASA mission to insert the Lockheed Martin-built Juno spacecraft into an elliptical polar orbit around Jupiter.
Harris said Tuesday a team of more than 100 employees supported operations, maintenance and engineering work for the space agency and the Jet Propulsion Laboratory's Deep Space Network.
"Harris and the DSN have been preparing for Jupiter orbit insertion for well over a year to ensure the success of this mission," said Carl D'Alessandro, president of Harris' critical networks segment.
The company said it is in charge of DSN's operations centers, maintenance facilities and antennas as the network links NASA with Juno and its scientific instruments.
Juno arrived at Jupiter on Monday to complete a 1.76-billion-mile journey over the past five years.
Harris said Juno will study the planet's composition, gravity and magnetic field and polar magnetosphere as well as the origins of the planet and other factors including water presence in the atmosphere, the distribution of planet mass and the behavior of Jupiter's surface winds.