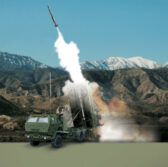 Germany may not be able to wrap up by the end of 2016 a potential $4.5 billion deal with Lockheed Martin and MBDA for a missile defense system, Reuters reported Sunday.
Andrea Shalal writes Ralf Brauksiepe, Germany's state secretary, wrote in a document released Friday that it is uncertain whether the Medium Extended Air Defense System program could be forwarded to the country's parliamentary budget committee either by year's end or early 2017 for approval.
Officials with Lockheed and MBDA told Reuters in June their companies expected to file their final proposal with the German government by the end of July as well as finalize the transaction over the MEADS program by the end of 2016, Shalal reports.
According to Reuters, experts said delays in negotiations would make it difficult for the MEADS project to secure parliamentary approval as Germany's national election approaches.
The U.S. collaborated with Italy and Germany to develop MEADS as a successor to the Raytheon-made Patriot system.