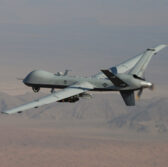 Cobham has agreed to support maintenance of a ground control station for the British air force's MQ-9 Reaper remotely piloted aircraft system under a contract with General Atomics' aeronautical systems business.
Cobham said Friday it will help maintain the Reaper GCS and the Sentry Intelligence, Surveillance, Target Acquisition system at RAF Waddington as well as the rear crew training platform at Royal Naval Air Station Culdrose.
"Technicians have completed both formal GA-ASI training and on-the-job-training in preparation for the contract commencement in June 2016," said Darren Moncrieff, vice president of Cobham's special mission unit.
Peter Nottage, president of Cobham's aviation services sector, added that Cobham and General Atomics have worked together for more than 12 years to support Reaper drones owned by the British military.
The U.K. air force currently operates a fleet of 10 MQ-9s equipped with ISTAR technology and remotely controlled from GCS.