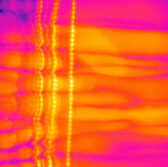 An L-3 Communications division has secured an order from an agency in Finland to supply infrared imaging tools for installation onboard Airbus Group-built H215 helicopters.
L-3 WESCAM will integrate its MX-15 electro-optical and infrared imaging systems with Finnish Border Guard's H215 aircraft designed for use in search-and-rescue and maritime border patrol missions, L-3 Communications said Monday.
The MX-15 EO/IR platform has a color low-light imager, laser illuminator, dual-channel spotter, thermal imager and auto-tracking tool that work in support of surveillance operations.
L-3 WESCAM is scheduled to complete system deliveries to Airbus by June 2017 and will also provide licenses for both eLearning and organizational and operation maintenance courses as part of the order.
L-3 said it will also demonstrate its MX-8, MX-10 and MX-25 EO/IR systems at the Farnborough International Airshow in England.