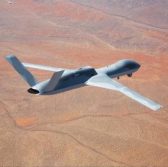 General Atomics has received an experimental certificate from the Federal Aviation Administration for its Predator C Avenger remotely piloted aircraft.
The FAA certificate would allow the General Atomics Aeronautical Systems-built Avenger system to operate in the U.S. National Airspace System, the company said Monday.
The Avenger unmanned aerial vehicle has an electro-optical/infrared sensor, Lynx radar system and a joint direct attack munition and is designed to perform ground- and maritime-based intelligence, reconnaissance and surveillance missions.
The company said its fleet of Avenger drones has logged more than 11,000 flight hours and that GA-ASI plans to commence test flights of its updated Avenger system in September.
The updated Avenger UAVÂ has a 76-foot wingspan and is designed to fly for up to 20 hours at more than 400 knots true airspeed.