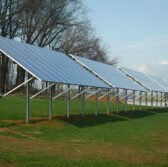 Dominion Virginia Power and the Department of the Navy plan to jointly establish a 21-megawatt direct current solar facility at Naval Air Station Oceana in Virginia.
The Navy said Tuesday Dominion will seek approval from the Virginia State Corporation Commission for the project this summer and expects the facility to be fully constructed and operational by late 2017.
"Renewable energy projects, like the one at NAS Oceana and others throughout the Mid-Atlantic Region, are win-win-win collaborations … they're good for the utility companies, good for our installations and good for the communities surrounding our installations," said Rear Adm. Jack Scorby, Navy region mid-atlantic commander.
"This collaboration shares common goals [to invest] in the growth of renewable energy and helping to make the military's energy supply more secure," added Thomas Farrell II, Dominion chairman, president and CEO.
Navy said the project will be its second solar partnership with Dominion after it has previously awarded a 10-year contract to purchase 25 MW DC equivalent to six percent of Naval Station Norfolk's electricity requirement.
The department also noted NAS Oceana will receive electrical infrastructure upgrades in exchange for the use of DON land while Dominion will build, own, operate and maintain the 21 MV DC facility for 37 years.