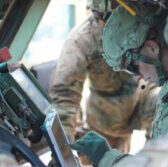 A team comprising Cubic, Fae Vectus, Language Directions and Marton Technologies has received a $6.2 million follow-on contract to develop education and training requirements for the U.S. Air Force's adviser academic services program.
Team Cubic will also continue to provide classroom and scenario-based training on core skills, language, region and culture at the Air Force Expeditionary Center at Joint Base McGuire-Dix-Lakehurst in New Jersey, Cubic said Monday.
"Recent turmoil in different regions of the world highlights the need for qualified, competent and well-trained warfighters with various competencies during expeditionary combat," said Dave Buss,  president of Cubic's global defense segment.
The team will work to help prepare air advisers and other airmen for multi-faceted peacetime and wartime operations with U.S. partner nations in support of combatant commands, air components and major commands.
Work on the contract is scheduled to commence in October.