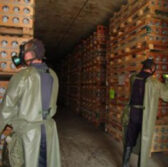 Chemring Group's detection systems business line has received initial funds on a potential $3.06 million contract to develop final prototypes for the U.S. Army's Next Generation Chemical Detector Surface Contaminant Locator program.
The company said Thursday it will develop multi-sample identifier, surface contaminant locator and a platform/site air monitor variants that work to meet NGCD Technology Development program requirements.
Chemring added it will create all three variants in an effort to to detect, identify, quantify, alarm and report diverse chemical species in any phase.
"We look forward to fulfilling the requirements of this contract and others for the Army," said Juan Navarro, president of Chemring's sensors and electronic systems line.
Navarro added Chemring aims to build products and services that help maintain the safety of the country's military and civilians against chemical contaminant threats.
The Joint Project Manager for nuclear, biological and chemical contamination avoidance manages the NGCD program in an effort to mitigate potential operational gaps in chemical detection and support mission events such as chemical release, site assessment and decontamination.