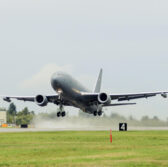 The U.S. Air Force has conducted the final tests on a Boeing-built military aerial refueling and strategic transport aircraft for a Milestone C production decision.
The Air Force said Monday the KC-46 Pegasus completed the last of six in-flight refueling demonstrations required prior to a request for approval from Frank Kendall, undersecretary of defense for acquisition, technology and logistics, to award production Lots 1 and 2 on the tanker program.
The anticipated award for low-rate initial production will cover the delivery of a total of 19 KC-46A units, the service branch added.
The tanker offloaded 1,500 pounds of fuel in-flight to an A-10 Thunderbolt II to complete the test series that also involved a C-17 Globemaster III, an F-16 Fighting Falcon and a U.S. Navy F-18 Hornet and AV-8B Harrier II.
"Today's flight marks the final step we needed to see on the boom fix in order to request production go-ahead," said Brig. Gen. Duke Richardson, Air Force program executive officer for tankers.
The Air Force-Boeing team had rescheduled the production decision for the tanker program from June to August because of an issue with the aircraft's refueling boom loads.
The tests were conducted through a joint effort from the 412th Test Wing, 23rd Fighter Wing, 355th FW, 124th FW, 896th Test Support Squadron and 40th Flight Test Squadron, which provided manpower, flight hours and personnel in support of the KC-46 program.