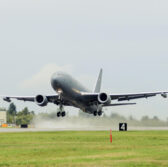 Boeing has won a potential $45.3 million contract to develop, produce and sustain an integrated maintenance training system for the U.S. Air Force's fleet of KC-46 Pegasus  tanker aircraft.
The company will help the military service build an MTS equipped with virtual maintenance training systems, landing gear and boom operator trainers, the Defense Department said Tuesday.
DoD added Boeing will perform contract work at the McConnell Air Force Base in Kansas through Feb. 28, 2019.
The Air Force Life Cycle Management Center received six bids for the firm-fixed-price contract and obligated $1 million in fiscal 2015 research, development, test and evaluation funds at the time of award.
The KC-46 aircraft is designed to refuel various U.S., allied and coalition military aircraft platforms built to comply with international aerial refueling procedures as well as carry passengers, cargo and patients.