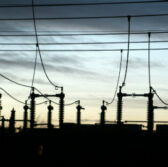 Schneider Electric USA and Black & Veatch have formed a joint venture that will design and construct an energy security microgrid system at a U.S. Marine Corps air base in San Diego.
Black & Veatch said Tuesday the system will be built to support facility operations across Marine Corps Air Station Miramar in the event of a utility power grid outage.
The companies are scheduled to finish the microgrid July 2018.
"Partnering with Schneider Electric will help us deliver a sustainable energy solution to enhance energy security for MCAS Miramar missions," said Bill Van Dyke, president of Black & Veach's special projects business.
The team was awarded a potential two-year $21.9 million contract by the Marine Corps in May to help build the MCAS Miramar's microgrid infrastructure.
Black & Veatch and Schneider Electric plan to incorporate renewable resources, smart grid control systems and demand response technologies into the system to help power several facilities at the military base during an outage using energy resources including landfill gas, solar photovoltaic and other energy systems.
The microgrid will be designed to also integrate with a utility control system at Naval Base San Diego.