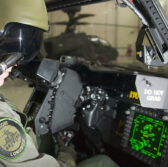 BAE Systems has completed a software update to the Emulated Deployable Cockpit Trainers for the British air force's Typhoon fighter aircraft simulators.
The company said Wednesday that updated EDCT system at Royal Air Force Coningsby and Lossiemouth bases will work to simulate missions for Typhoon pilots to familiarize themselves with geographical area, conditions and layout prior to deployment.
"This update to the UK"™s synthetic training devices forms an integral part of our ongoing commitment to support the UK training programme and RAF operational requirements," said Mark Williams of BAE's aircrew training and synthetic service business.
Philip Dunne, British minister for defense procurement, noted the software upgrades are intended to help pilots simulate environments in Iraq and Syria and support counter terrorism efforts against the Islamic State group.
The updated EDCT and a de-brief facility were presented to Air Commodore Ian Duguid, the U.K.'s Typhoon Force Commander, when he visited the Lossiemouth base.