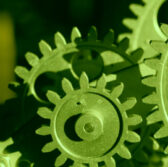 BAE Systems and the University of Glasgow have conceptualized a machine that would work to produce small unmanned air vehicles through chemical processes.
The company said Sunday the Chemputer machine could be developed to support military operations and build parts of large manned aircraft.
"We have been developing routes to digitize synthetic and materials chemistry and at some point in the future hope to assemble complex objects in a machine from the bottom up, or with minimal human assistance," Lee Cronin, a Regius professor at the University of Glasgow and Cronin Group's founding scientific director.
Engineers and scientists from BAE and the University of Glasgow envisioned Chemputer ahead of the Farnborough International Airshow scheduled for July 11 through July 17, BAE noted.
Cronin Group is working to develop the Chemputer.