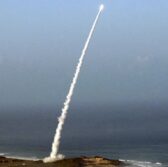 BAE Systems' U.S. subsidiary has received two contract modifications worth a combined $41.2 million to provide support and flight systems guidance integration services for the U.S. Air Force's Intercontinental Ballistic Missile replacement program.
BAE Systems Inc. will work to manage schedule, document acquisition program, handle risks, perform trade and technical studies and manage data for the Ground Based Strategic Deterrent program under the first contract worth $29.4 million, the Defense Department said Wednesday.
The second contract has an $11.9 million value and calls for the subsidiary to perform system engineering, requirements analysis, performance evaluation, and concept assessment of alternative missile guidance set concepts.
Work under both contracts will occur at Hill Air Force Base, Utah, through July 2017 and the Air Force used funds from its fiscal 2016 research, development, test and evaluation budget at the time of award.
The Air Force requested $113.9 million to finance the GBDS program next fiscal year as the military service looks to retire the branch's LGM-30G Minuteman III ICBM system built by Boeing.