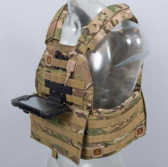 BAE Systems has partnered with Intelligent Textiles to market a new wearable technology designed to serve as an alternative to heavy portable data and power supplies for military and emergency service personnel use.
BAE Systems said July 11 the partnership aims to offer the Broadsword Spine e-textile based layer technology to armed forces, fire and rescue services and law enforcement organizations that rely on carrying electronic equipment.
Paul Burke, defense information and technology director at BAE's military and air information unit, said the technology is intended as a lightweight, cable-free alternative to existing wearable products and designed with an open architecture to power communications systems of soldiers or first responders.
Broadsword Spine creates an invisible electronic network and power supply made from conductive fabrics integrated with clothing such as vests, jackets or belts that soldiers can use to plug electronic devices via USB, BAE noted.