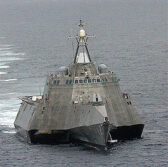 The U.S. subsidiary of Austal has received an $11.2 million contract modification from the U.S. Navy to plan and conduct repairs to any damage the company-built USS Jackson littoral combat ship will sustain during full ship shock trials.
Austal USA will also help remove FSST test equipment and instrumentation after the tests under the modification, the company said Monday.
The Navy performed the first of three trials for the Jackson vessel to initially evaluate the ship's endurance amid nearby underwater explosions.
Austal USA is building an additional six Independent-variant warships at a company facility in Alabama as part of the company's $3.5 billion, 11-ship contract with the Navy under the LCS program.