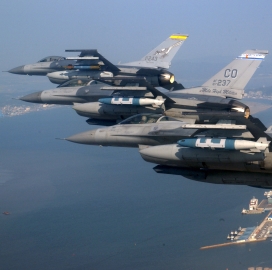 Astronics has received a 24-month, $5 million contract to supply night-vision lighting systems for the F-16 jets of an unnamed country through the U.S. foreign military sales program.
The contract calls for Astronics to design and develop a complete lighting system that will work to help pilots fly F-16s with night-vision goggles, the company said Wednesday.
Astronics added the system will incorporate exterior and cockpit lighting and products necessary to modify aircraft wiring and control systems.
"In addition to our long history with the F-16, we provide lighting systems on virtually every major fighter, rotorcraft and transport aircraft flown by militaries worldwide, including the F-18, F-35, UH-60, V-22, CH-53K, C-130 and KC-390 to name just a few," said Astronics President and CEO Peter Gundermann.
New York-based Astronics offers electrical power generation, distribution and motion systems, lighting and safety systems, avionics products, aircraft structures, systems certification and automated test systems for the aerospace, defense and semiconductor industries.