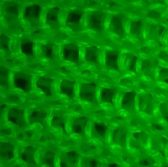 Ann Arbor, Michigan-based biotechnology firm Kraig Biocraft Laboratories has been awarded a potential $1 million contract from the U.S. Army to develop high-performance fibers using genetically engineered spider silk for protective military apparel.
The company will use its proprietary Dragon Silk material to produce ballistic shoot packs for the service branch under the contract, Kraig Biocraft said Tuesday.
The Army aims to test and evaluate if spider silk-based shoot packs can help protect soldiers from ballistic impact.
"We are honored that the U.S. Army has selected us for this program." said Kim Thompson, CEO and founder of Kraig Biocraft Laboratories.
"This contract reinforces the many significant potential applications for recombinant spider silk," added Jon Rice, COO Kraig Biocraft chief operating officer.