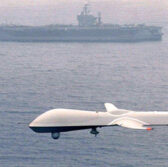 The U.S. Air Force has designated the U.S. Navy's first carrier unmanned aircraft vehicle as MQ-25A Stingray, USNI News reported Friday.
Sam LaGrone writes the Navy received the official name and designation for the UAV through a July 11 memo issued by the Air Force Materiel Command.
The Air Force assigned the name MQ-25A Stingray, formerly known as the Carrier Based Aerial Refueling System, in an effort to reflect the multi-mission functionalities of the UAV with a primary focus on aerial refueling operations, LaGrone reports.
The report said the Navy plans to leverage the Unmanned Carrier Launched Airborne Surveillance and Strike program's connectivity platform and ground control station for the MQ-25A Stingray UAV.
The Navy is scheduled to issue a draft request for proposals for the Stingray drone's air segment to Northrop Grumman, Boeing, Lockheed Martin and General Atomics by the end of 2016, according to the report.
The service branch plans to release the final RFP for the drone's air segment in 2017 and expects to deploy the first batch of operational Stingrays by 2020s, the report added.