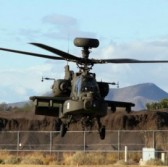 ZedaSoft has received a contract from AI Signal Research to provide a simulator for the Boeing-built Apache AH-64D helicopter that runs on a simulation software framework.
ZedaSoft will work to equip the Apache simulator with its Container-Based Architecture for Simulation software framework and provide simulation hardware equipment under the contract, the company said Wednesday.
CBA for Simulation is a suite of software systems designed to manage arbitrary data updates and serves as the foundation of all ZedaSoft-built simulator tools.
ZedaSoft will hand over the Apache simulator to the U.S. Army for installation at the service branch"™s distributed test control facility in Redstone, Alabama, to support communication and aviation systems testing activities.
The simulator"™s pilot station is built on ZedaSoft"™s Reconfigurable Cockpit System, while the gunner/co-pilot station is based on the company"™s Reconfigurable Desktop System.
Fort Worth, Texas-based ZedaSoft provides visualization and simulation software platforms for government and commercial clients.