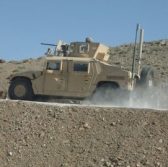 The Office of Naval Research is close to the third phase of its program to develop a vehicle-mounted laser weapon system for efforts to counter adversaries' unmanned aerial vehicles, USNI News reported Thursday.
Lt. Gen. Robert Walsh, U.S. Marine Corps deputy commandant for combat development and integration, said the third phase of the Ground-Based Air Defense Directed Energy On-The-Move program will involve the launch of a 30-kilowatt laser atop a moving vehicle, Megan Eckstein wrote.
GBAD DE OTM is scheduled for completion in 2022 and will transition into the Marine Corps' program of record to support the service branch's ground units alongside the Stinger missile systems, USNI News stated.
Walsh said at the Directed Energy Summit the laser system can be installed with the Stinger launcher to engage high-altitude UAVs, cruise missiles or manned aircraft, Eckstein reported.