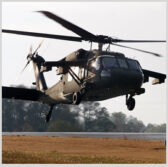 Lockheed Martin's Sikorsky subsidiary has entered agreements with Turkey's government and aerospace companies in the country to license production of 109 T70 utility helicopters based on Black Hawk aircraft.
Sikorsky said Thursday Turkish Aerospace Industries will build and deliver T70 aircraft within the next 10 years as prime contractor for the $3.5 billion Turkish Utility Helicopter Program.
Sikorsky will provide engineering data to TAI to help establish the T70 assembly line and manufacturing functions, as well as deliver five aircraft kits to be assembled by TAI in 2018.
TAI will begin to supply the helicopters in 2021 for Turkey's Land Forces, Air Force, Gendarme, Special Forces, National Police and the Directorate General of Forestry.
The 109 T70 helicopters will include 89 choppers in common utility configuration and 20 rotorcraft in a firefighting configuration for the Turkish forestry agency to be delivered through 2026, Lockheed noted.
TAI will also deliver baseline S-70i Black Hawk aircraft for export to Sikorsky through a three-decade period and the two companies plan to form a joint marketing team to aid Sikorsky's sale of S-70i to new markets in the Middle East, Central Asia and Africa.
TAI's TUHP contract includes options to manufacture up to 600 T70 and S-70i helicopters.
Aselsan, Sikorsky joint venture Alp Aviation and Turkish Engine Industries will also develop aircraft components under TUHP.