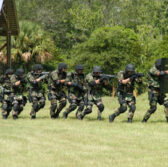 Shape Technologies has received an $8.1 million contract to engineer and produce  simulation systems for the training programs and exercises conducted by the U.S. Air Force.
The Colorado Springs, Colorado-based company will also support the modeling and simulation branches of the U.S. Strategic Command's joint exercise and training directorate, the North American Aerospace Defense Command and the U.S. Northern Command, the Defense Department said Tuesday.
Shape Technologies will carry out the contract requirements at Offutt Air Force Base in Nebraska and Peterson Air Force Base in Colorado through Dec. 12, 2021.
The Air Force obligated $630,241 from its fiscal 2016 operation and maintenance funds at the time of award.