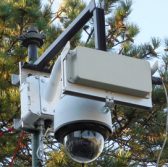 Rockwell Collins has launched a high-resolution perimeter surveillance radar technology at the ongoing Eurosatory international defense and security trade show in Paris.
The PSR-500 radar offering employs behavior analysis algorithms to identify, track and record intrusions even in rainy and foggy conditions, Rockwell Collins said Monday.
"Demand for this type of radar technology is growing to address the need for surveillance of geographical borders, critical infrastructures, industrial, commercial or sporting areas," noted Claude Alber, vice president and managing director of Rockwell Collins' operations in Europe, the Middle East and Africa.
Rockwell Collins designed the PSR-500's sensor to operate with camera systems that are controlled by radar detection technology in an effort to help customers facilitate multi-target intrusion tracking operations.
The compact radar can be deployed at railroad stations, hydroelectric facilities, nuclear power plant, airports and military bases, the company noted.