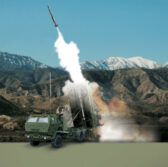 Lockheed Martin and MBDA aim to finalize an estimated $4.5 billion deal with Germany for the Medium Extended Air Defense System by the end of this year, Reuters reported Thursday.
Andrea Shalal writes Thomas Homberg, a managing director at MBDA, told Reuters the German government has expressed "strong support" for the procurement effort and he expects the deal to receive parliamentary approval before the country's general election next year.
Germany chose the Lockheed-MBDA team to build the country's next missile defense system after a competitive acquisition process in 2015, Shalal reports.
The report said Raytheon, which also competed in the program, still has an opportunity to potentially develop a medium- or long-range radar technology that Germany seeks to integrate with MEADS.
The U.S. developed the MEADS system with Germany and Italy as a successor to Raytheon's Patriot system through a tri-national investment.