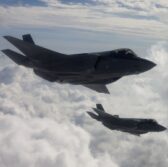 Jack Crisler, Lockheed Martin vice president of business development for the F-35 program, said the company might move production work on the fighter jets away from Canadian companies amid uncertainty in Canada's plans to buy F-35s, Reuters reported Friday.
Andrea Shalal writes Crisler told Reuters the company might shift future F-35 work to other partner countries that placed firm or accelerated orders.
Crisler said Canadian firms will carry out $1 billion worth of development and production work on the F-35 program by the end of 2016.
He added that 60 Canadian subcontractors have worked on the F-35 program while an additional 70 companies are currently involved in the production.
Lockheed will reconsider contracts with Canadian firms if the government does not hold an open competition, Crisler told Reuters.
Reports in the Canadian press indicate that the country might choose a sole-source acquisition of Boeing's F/A-18E/F fighter jets as the ruling Liberal government remain concerned about the F-35's cost and readiness, the report said.