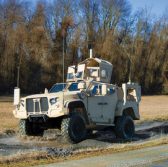 Oshkosh Defense will display its Joint Light Tactical Vehicle at the Eurosatory international defense and security exhibit until June 17 in Paris, France.
JLTV is based on the Oshkosh Light Combat Tactical All-Terrain Vehicle and offers off-road transportation functions, Oshkosh Defense said Monday.
Oshkosh was selected in August 2015 to replace U.S. Army and U.S. Marine Corps Humvee ground vehicles under a potential $7 billion contract.
JLTV features the TAK-4i suspension system and the Oshkosh Core1080 crew protection system that works to guard the vehicle against blasts and improvised explosive device attacks, among other threats.
The vehicle is also designed to be internally transported by C-130, C-5 and C-17 airlifters or externally via helicopter variants such as the CH-47 and CH-53.