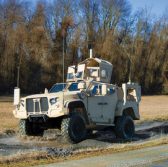 Griffon subsidiary Telephonics has received a subcontract from Oshkosh's defense segment to provide the NetCom vehicle intercommunications systems for the future U.S. Army and Marine Corps Humvee replacement Joint Light Tactical Vehicle.
Telephonics said Tuesday NetCom works to provide crew intercommunications and radio management systems for up to 20 users.
NetCom also features noise cancellation technology to optimize audio intelligibility and protect the hearing functions of users, Telephonics added.
Mike Beltrani, vice president and general manager for communications and surveillance systems at Telephonics, said Netcom offers what he called a "system-in-a-box" design and has been tested in battle.
Oshkosh Defense is contracted to build 17,000 JLTV vehicles for the program's three-year low-rate initial production phase.