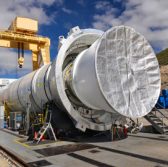 An Orbital ATK facility has started to host a NASA operation that will analyze a test version booster's capacity to perform at extreme temperatures.
NASA said Friday three large air-conditioning units began to continuously pump air at 25 degrees Fahrenheit through June 28 in an effort to hit reach the 40-degree cold temperature target for the Space Launch System booster.
Mat Bevill, SLS boosters office deputy chief engineer at NASA's Marshall Space Flight Center, said the booster's temperature could reach up to 6,000 degrees Fahrenheit when fired up and the team will work to address performance capacity in wide temperature ranges.
NASA added previous human-rated space program data suggests the limits for boosters fall between 40 and 90 degrees Fahrenheit.
The space agency will measure 82 design objectives through more than 350 instrumentation channels on the booster such as the propellant temperature range.
The Boeing-built SLS is scheduled to carry the Lockheed Martin-constructed Orion spacecraft on a first mission in 2008.