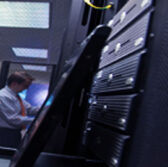 NASA has picked a cloud-based NetApp storage platform to help agency personnel move, protect and manage data at the Johnson Space Center in Houston, Texas.
The selection came after NASA's informational resources directorate conducted a proof-of-concept data storage effort that leveraged NetApp's AltaVault appliance, Veritas' NetBackup  platform and Amazon Web Services' cloud technology, NetApp said Monday.
"With one of the largest cloud footprints of any U.S. federal government agency, NASA had very specific requirements for how to support its backup to the cloud initiatives," noted Phil Brotherton, vice president of NetApp's data fabric group.
NASA aims to manage huge volumes of data from collected from videos, satellites, cameras and telescopes through  the use of the NetApp platform, the company noted.
The company updated AltaVault in a move to enable the appliance to support additional cloud targets, backup software products and Kernel-based virtual machines.