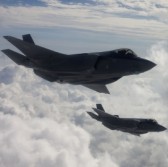 Avcorp Industries has received a contract from Lockheed Martin to continue to manufacture composite wing skin, nacelle and body access panels for the F-35 program.
The contract will extend Avcorp's work on composite F-35 panels at a company facility in Gardenia, California, through 2020, Avcorp said Tuesday.
Lockheed awarded Avcorp a firm order in mid-April to provide paint preparation and installation services for F-35 Carrier Variant Outboard Wing control surfaces and systems.
Avcorp also assembles CVOBW structures at its aerostructures assembly facility in Delta, British Columbia, as part of a long-term agreement with BAE Systems, one of Lockheed's two principal partners in the U.S. fighter aircraft program.