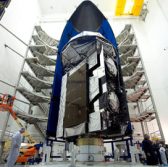 Lockheed Martin has completed the encapsulation of a fifth Mobile User Objective System satellite designed for military communications into a launch vehicle fairing platform.
MUOS-5 is scheduled to take off June 24 onboard a United Launch Alliance-built Atlas V rocket and would be the final satellite to complete the U.S. Navy's network constellation, Lockheed said in a news release published June 8.
"Like its predecessors, MUOS-5 has two payloads to support both these new Wideband Code Division Multiple Access waveform capabilities, as well as the legacy ultra high frequency satellite system, used by many mobile forces today," said Mark Woempner, program director of narrowband communications mission area at Lockheed.
"On orbit, MUOS-5 will augment the constellation as a WCDMA spare, while actively supporting the legacy UHF system," he added.
MUOS-5 will join a network of four relay ground stations and four orbiting satellites that work to provide military mobile forces access to an internet protocol-based platform to transmit video, voice and mission data as well as allow users to connect to the global information grid.
Lockheed's Astrotech Space Operations subsidiary performed pre-launch processing on MUOS-5 following the delivery of the satellite to Cape Canaveral Air Force Station in Florida in March.