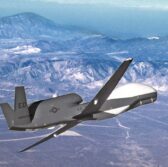 The Federal Aviation Administration has chosen Liteye Systems to provide a counter unmanned aerial vehicle technology for evaluation at domestic airports as part of the agency's Pathfinder Program.
FAA and Liteye signed a cooperative agreement to test the Anti-UAV Defense System developed by British companies Blighter Surveillance Systems, Chess Dynamics and Enterprise Control Systems, Blighter said Tuesday.
Liteye acts as the North American manufacturing and integration partner of the AUDS  technology team.
Mark Radford, a spokesperson for the AUDS team, said the FAA picked the British consortium's platform after a series of counter-drone trials sponsored by the U.S. government and held in late 2015.
The system is designed to employ Blighter's Ku-band electronic scanning radar, an Enterprise Control Systems-made directional radio frequency inhibitor and Chess Dynamics' electro-optical director, infrared camera and target tracking technologies.
The team developed the AUDS to detect remotely piloted aircraft systems at airports, nuclear power stations, oil refineries, air fields or political or sporting events.