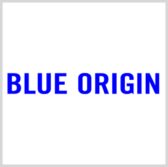 Blue Origin founder Jeff Bezos has said the next administration should ask NASA to launch large-scale technology development initiatives and prize programs, Space News reported Wednesday.
Jeff Foust writes Bezos made the remarks in an on-stage interview during a lecture at the National Air and Space Museum in Washington Tuesday.
"One thing that the government could do is just offer a very large prize to whoever first brings back some Mars samples," he said.
"People would compete for it."
Bezos, who is also founder of Amazon.com, noted that the space agency could pursue technology development programs in the areas of hypersonic passenger aviation and in-space nuclear reactors, Foust reports.
He said in a Twitter post that Blue Origin is scheduled on June 17 to carry out another flight test of its New Shepard rocket and plans to launch commercial flights in 2018.
"We'll fly our first test astronauts in late 2017, hopefully, if the test program continues to go well," he added, according to the report.