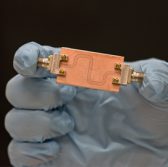 Intel Corp. has reproduced a measurement system the National Institute of Standards and Technology developed to quantify how nanoscale magnetic devices perform in an effort to assess whether the tiny structure applies to future computing.
Scientists from Intel and Stanford University have released the results of the ferromagnetic resonance spectrometer system in the Journal of Applied Physics, NIST said Monday.
The measurement system is designed to help scientists study a material"™s dynamic properties for potential application in spintronic random-access memory, a field which NIST says is gaining traction worldwide because of its high speed and low power requirements.
"It"™s sort of the next stage in tech transfer," says Tom Silva of NIST"™s Physical Measurement Laboratory.
Unlike conventional computer dynamic RAM, spintronics uses the spin states of electrons to process information with small amounts of power in a short period of time.