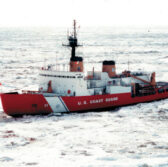 Inmarsat has provided communications support to a National Oceanic and Atmospheric Administration-led team in efforts to break a channel of Antarctic sea ice to help ships deliver supplies to a U.S. research center located on Ross Island.
Operation Deep Freeze 2016 used the U.S. Coast Guard icebreaker Polar Star to create a "superhighway" that will allow oil tankers and cargo ships to resupply fuel and food items to the McMurdo Research Station, Inmarsat said Wednesday.
"We are pleased to have risen to the occasion and helped with this important mission,"   said Kai Tang, vice president of market development at Inmarsat's U.S. government business.
NOAA's personnel aboard the Polar Star worked to collect and transmit data from images and videos collected from an AeroVironment-built Puma All Environment unmanned aerial vehicle.
The mission team also leveraged Inmarsat's satellite communications technology to exchange data with command centers in Antarctica and in North America as well as facilitate collaboration between Puma AE operators and air traffic controllers during the two-month long mission.
"Even as the rough seas caused major rolling while crossing the southern ocean on the Polar Star, and wind levels grew severe, the ship maintained connectivity thanks to the Inmarsat satellite system," Tang added.