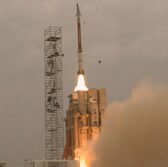 IHS has reported a "record-breaking" $65 billion in global defense trade for 2015 after examining trends worldwide across 65 countries based on 40,000 programs in the firm's Aerospace, Defense & Security's markets forecast database.
IHS said Monday the Global Defense Trade Report noted the Middle East as the largest importing region with an approximate $21.6 billion in defense equipment deliveries.
"The global defense trade market has never seen an increase as large as the one we saw between 2014 and 2015," said Ben Moores, IHS senior analyst.
The study covered production, research and development, logistic support and service revenues with exports.
IHS forecasts France to overtake Russia as the second-largest global defense equipment exporter in 2018 after the top-ranked U.S.
Australia, Egypt and South Korea enter IHS' top five weapons exporters to replace Taiwan, China and Indonesia.