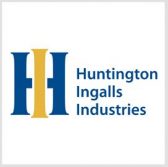 Huntington Ingalls Industries' Ingalls Shipbuilding division held a keel-laying ceremony for the 32nd Arleigh Burke-class guided missile destroyer that HII built for the U.S. Navy.
The company said Wednesday the Delbert D. Black (DDG 119) is named after the first master chief petty officer of the Navy who was aboard USS Maryland during the Pearl Harbor attack.
Black's wife, Ima Black, served as the ship's sponsor and etched her initials onto a keel plate along with shipbuilder Earnest Wiley, HII added.
The ceremony was attended by Ingalls Shipbuilding President Brian Cuccias, DDG 51 Program Manager Mark Vandroff and Mike Stevens, who is master chief petty officer of the Navy.
HII has delivered 28 Arleigh Burke-class destroyers to the Navy with five more under construction including DDG 119.
The destroyers are designed to support air, surface and subsurface battles with multiple offensive and defensive weapons.