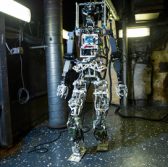 Researchers from Georgia Institute of Technology and the Office of Naval Research have developed an artificial intelligence software program the team designed to serve as a "human user manual" for robots.
The U.S. Navy said Thursday Quixote will be used to teach robots how to read stories, learn acceptable behavior and ways to conduct itself in social situations to prevent machines from acting unethically or harming humans.
"For years, researchers have debated how to teach robots to act in ways that are appropriate, non-intrusive and trustworthy," said Marc Steinberg, ONR program manager.
"One important question is how to explain complex concepts such as policies, values or ethics to robots.
Mark Riedl, entertainment intelligence laboratory director at Georgia Tech, and his research team crowdsourced daily social interaction stories from the internet and plugged the data into Quixote to create a virtual agent.
The Navy said results from 500,000 simulations displayed proper social interactions emulating the actions of protagonists in the stories more than 90 percent of the time.
Riedl's team looks to modify the Quixote's system to a more modern and complex style and potentially train robots to perform diverse tasks that includes military application including mine detection and deactivation, equipment transport and humanitarian and rescue operations.