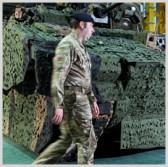 General Dynamics"™ European Land Systems subsidiary has awarded a seven-year, $21.5 million contract to Permali Gloucester to provide armored materials needed for the production of the British army"™s fighting vehicles, Business Mole reported Thursday.
Beth Haven writes GDELS will incorporate the materials into 589 AJAX reconnaissance vehicles for the British army.
Permali has invested approximately $428,000 in equipment the company will need to produce the armored materials, according to the report.
The Gloucester, England-based company produces composite parts for the defense, aerospace, automotive and rail industries.